A possible engineering sample of the Intel Core i9-13900K processor from the Raptor Lake series has appeared on the CPU-Z website. The CPU had a clock speed of around 5GHz and was tested in combination with DDR4 memory. Raptor Lake is expected this year.
The Raptor Lake processor with 24 cores and 32 threads made an appearance in the CPU-Z Validator database recently, Twitter user Tum_Apisak noted. The processor has a TDP of 125W and has eight P-cores and sixteen E-cores, for a total of 24 cores and 32 threads. The CPU-Z website does not list a model number, but Intel previously announced that the Raptor Lake top model will receive this configuration. It would therefore probably be the Core i9-13900K.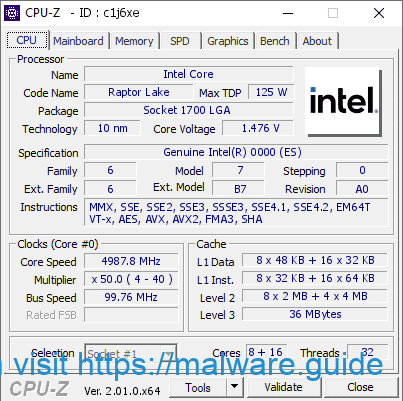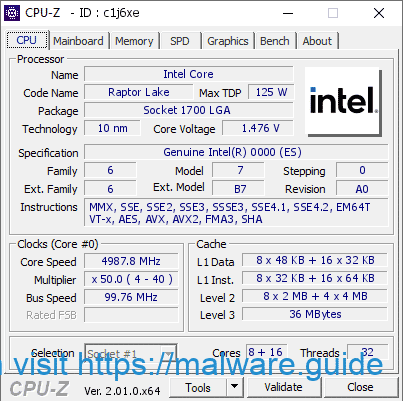 The CPU-Z listing mentions a maximum clock speed of 4.987GHz on the P-cores and 2.993GHz on the E-cores. With the release version, a clock speed of up to 5.5GHz on the P-cores is expected. As expected, the processor has 896kB of L1 cache, 32MB of L2 cache, and 36MB of L3 cache, for a total of approximately 69MB. The sample has been tested with an MSI Pro Z690-A motherboard, for which a bios version with Raptor Lake support has been available since the beginning of this month. The CPU has been tested in combination with 32GB DDR4-2660 memory. Raptor Lake will receive support for DDR4 and DDR5 memory, as will Alder Lake.
The Core i9-13900K sample achieved a single thread score of 846 in the CPU-Z test, while the Core i9-12900K scores around 815. This corresponds to previously published benchmarks from a Chinese reviewer, where the 13900K sample achieved a score of 831 at a clock speed of 5.1GHz. Due to the extra E-cores, the multicore score of the processor is 13,054, where the Core i9-12900K has an average score of 8460. According to the CPU-Z website, the processor had a temperature of 100 degrees Celsius.
Intel is expected to officially announce the first Raptor Lake CPUs in September, with a possible release in October. The company previously announced that Raptor Lake should, among other things, deliver better performance and get more E-cores compared to the current Alder Lake generation. The CPUs use socket LGA-1700, just like Alder Lake.