The realm of cyber threats and unwanted software installations is vast and varied. Among these, adware stands out as particularly pesky. If you've ever had to deal with constant, intrusive ads, pop-ups, or notifications on your Mac, chances are you've been a victim of an adware invasion. One such adware, the OverallHelpDesk, is gaining notoriety for its specific targeting of Mac devices.
This guide delves deep into understanding OverallHelpDesk, its effects, and the steps to ensure its effective removal.
What is OverallHelpDesk?
OverallHelpDesk is not merely a benign tool that provides discount codes or shopping deals. Instead, it operates as an adware program. Unlike traditional software, which users knowingly download and install for some perceived benefits, adware usually sneaks into systems discreetly, often bundled with other software installations. Once installed, it primarily generates revenue by bombarding users with advertisements.
Infiltration and Impact on Your Mac
This adware has a two-pronged approach to asserting its presence:
1. Browser Extension Installation: OverallHelpDesk promptly installs a browser extension upon finding its way into your Mac. This seemingly insignificant addition grants it alarming control over your browser's operations.
2. Browser Setting Manipulation: With control established, the adware gets to work, making several unauthorized changes. These can range from altering your default homepage, modifying your search results to provide sponsored or skewed results, and flooding your browsing experience with endless pop-ups.
The consequence of OverallHelpDesk's presence goes beyond mere browser annoyance. Its ads aren't just a disturbance; they serve as potential gateways to more severe threats. It can redirect you to questionable websites, some meticulously crafted to dupe users into downloading even more malicious software. These sites often use social engineering tactics, such as presenting fake alerts that your Mac is infected or offering fraudulent software updates.
The Danger of Indiscriminate Clicks
When dealing with the barrage of ads from OverallHelpDesk, it's easy to feel tempted to click, either out of curiosity or in an attempt to close them. However, this can be a grievous error. Not all these ads are genuine. Clicking can lead to:
Further malware infections: Some ads, especially those pushing software downloads or updates, can result in the downloading of additional malware.
Phishing Attempts: Some pop-ups might lead to websites that try to gather personal information, posing as legitimate services.
Unwanted Software Installations: Ads might promote software that seems useful but is bundled with other harmful applications.
Given these risks, always exercise caution when faced with unfamiliar ads, especially those that appear too often or out of context with the website you're visiting.
Now, let's begin on how to remove OverallHelpDesk from your Mac!
How to Remove

OverallHelpDesk?
Before we start, you need to remove an administrator profile from your Mac settings. The administrator profile prevents Mac users from uninstalling OverallHelpDesk from their Mac computer.
In the top left corner, click on the Apple icon.
Open Settings from the menu.
Click on Profiles
Remove the profiles: AdminPref, Chrome profile, or Safari profile by clicking the – (minus) in the bottom left corner.
Remove

OverallHelpDesk

extension from Safari
Open Safari
In the top left menu, open the Safari menu.
Click on Settings or Preferences
Go to the Extensions tab
Remove the

OverallHelpDesk

extension. Remove all extensions you do not know.
Go to the General tab, and change the homepage from

OverallHelpDesk

to one of your choices.
Remove

OverallHelpDesk

extension from Google Chrome
Open Google Chrome
In the top right corner, open the Google menu.
Click on More Tools, then Extensions.
Remove the

OverallHelpDesk

extension. Remove all extensions you do not know.
In the top right corner, open the Google menu once again.
Click on Settings from the menu.
In the left menu, click on Search Engines.
Change the Search engine to Google.
In the On Startup section, click on Open the new tab page.
Remove OverallHelpDesk easily with Combo Cleaner
The most comprehensive and complete utility application that you will ever need to keep your Mac clutter and virus-free.
Combo Cleaner is equipped with award­ winning virus, malware, and adware scan engines. Free Antivirus scanner checks if your computer is infected. To remove infections, you will have to purchase the full version of Combo Cleaner.
Our antivirus software is specifically designed to fight Mac-native malicious applications, however, it also detects and lists PC ­related malware. The virus definition database is updated hourly to ensure that you are protected from the latest outbreaking malware threats.
Install Combo Cleaner. Click the Start Combo scan to perform a disk clean action, remove any big files, duplicates and find viruses and harmful files on your Mac.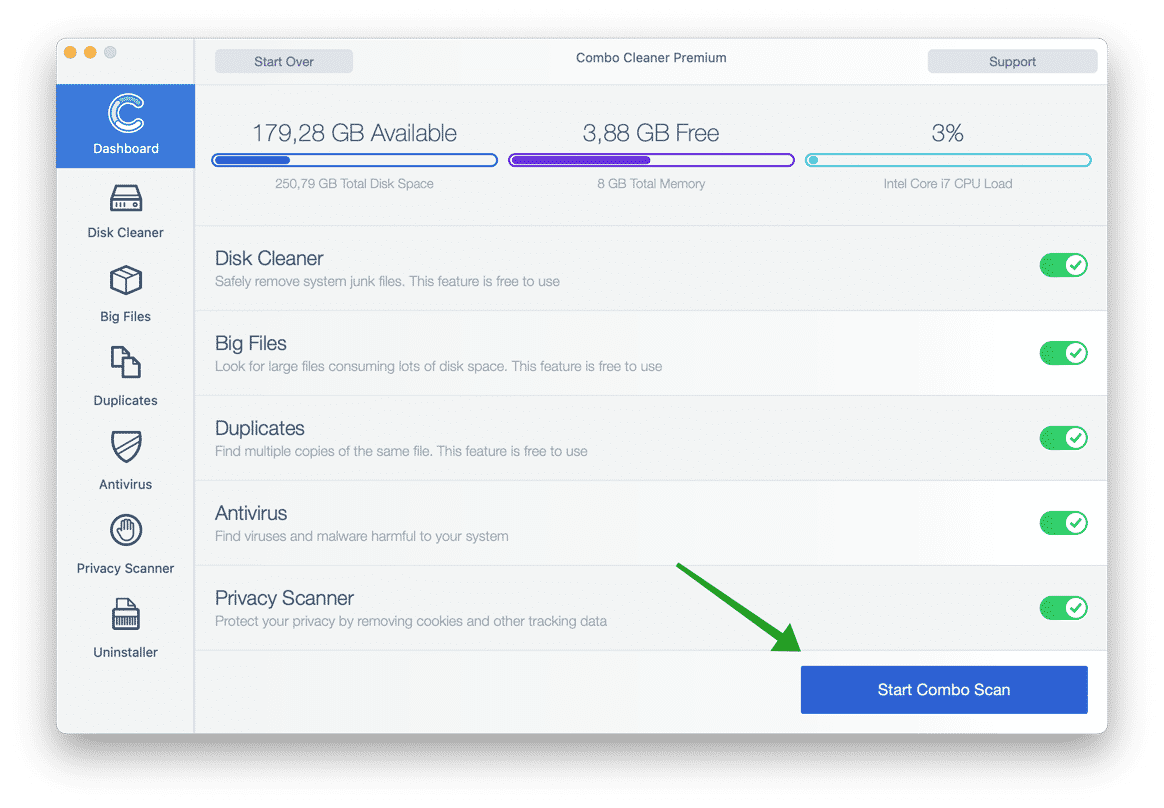 If you want to remove Mac threats, head over to the Antivirus module. Click the Start Scan button to start removing viruses, adware, or any other malicious files from your Mac.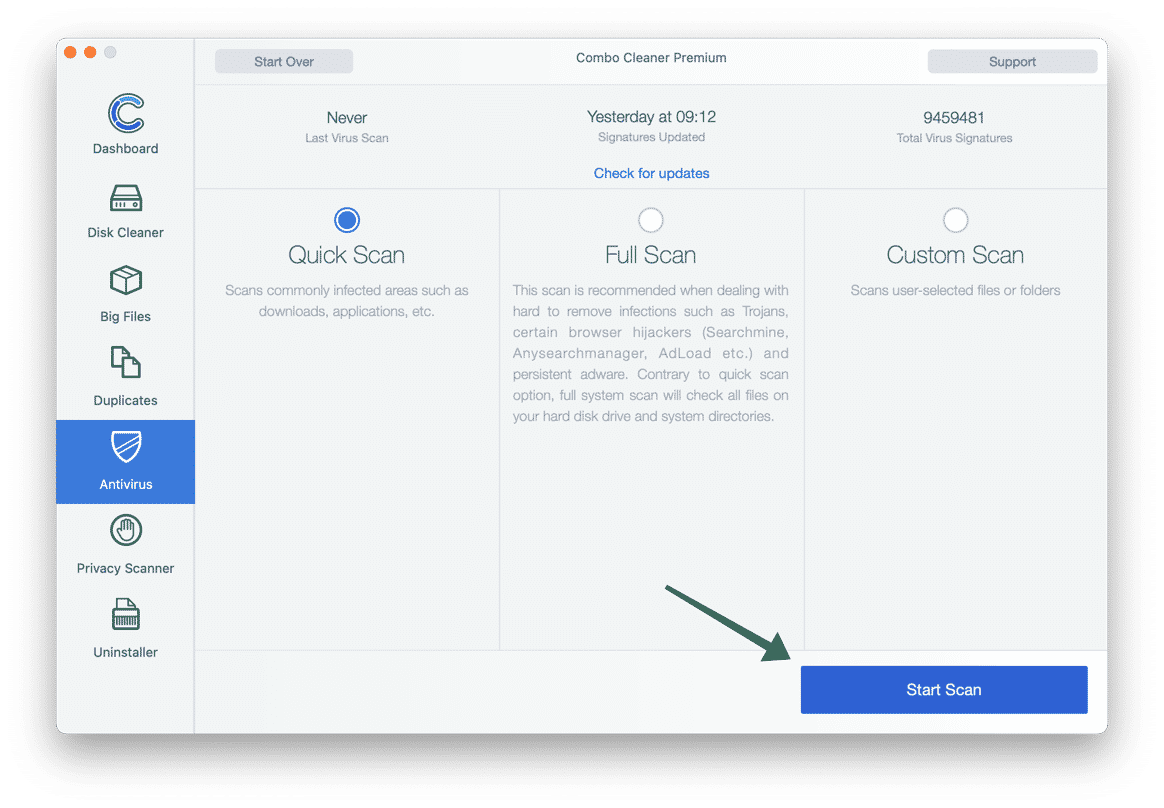 Wait for the scan to finish. When the scan is done follow instructions to remove the threats from your Mac.
Enjoy a clean Mac computer!
Your Mac should be free of Mac adware and Mac malware. Thank you for reading!