Currently, PDF documents are more protected and secure than any other document format. Due to its high security layer, PDF files store essential details. Almost all computer users use PDF documents to store their data, which must be protected with passwords. However, PDF files sometimes get corrupted or damaged due to some common reasons, and many people are not well aware about: how to recover your pdf files.
To find out different manual ways to repair damaged PDF files (PDF document features, manual repair or recovery tool) https://pdf.recoverytoolbox.com/) and why it gets damaged, read on!
What is a PDF file or document?
PDF stands for Portable Document Format, a versatile file format created by adobe with which you can present and exchange documents easily and reliably. PDF files are primarily for viewing, not editing, which adds an extra layer of security to your document. Today, most popular browsers offer built-in PDF viewers Chrome, Microsoft Edge, Firefox or Safari to open PDF documents easily.
Characteristics of the PDF document
PDF files cannot be compared to other files because they offer multiple layers of protection that other files don't. PDF files also have other very useful features as mentioned below:
PDF files can be used on various operating systems, including Unix, Windows, and Mac. It's extremely easy to transfer PDF files using storage devices, via email, over a network, and more.
Did you know that the PDF file can be corrected manually and you can create signatures, inscriptions and images without advanced settings?
PDF files have file encryption that makes it impossible for unauthorized people to modify, edit, copy or print these documents. Therefore, the PDF file format increases your documents' protection level.
It opens on any device with any operating system precisely the way it was created;
A format viewer is often pre-installed on the computer if the device comes with the operating system. If not, it can be downloaded from the Adobe Systems developer site and is completely free;
Takes up little space on your hard drive as it supports many compression algorithms;
Security: The user can configure security settings for his file, for example, prohibit printing, prohibit editing, use an electronic signature to authenticate a document, etc.
Many digital records are vulnerable to malware attacks and often become corrupted due to the effects of malicious content. PDF document files are not immune from malicious content attacks and effects. So, let's talk about the main factors that are often responsible for the damage of PDF files.
Why is my PDF file corrupted?
Below are the reasons why PDF files get corrupted or damaged:
If the hard drive and USB drive fail simultaneously, the PDF file will surely get corrupted. Problems like hardware overheating, short circuit, etc. can cause hard drive failure.
Improper system shutdown and sudden power outage can also corrupt PDF files.
Viruses and other malware attack a file on a computer and damage it by modifying or overwriting it.
Failed and inappropriate downloads of PDF files can also damage the files. This can happen if the internet connection is not good enough.
Imperfect downloads cause file structure disruption, destroying the structure of the PDF file.
Those mentioned above are the main factors that are often responsible for the corruption or damage of PDF files. Now let's see how to repair or recover a corrupt or damaged PDF file.
How to repair a damaged PDF file?
Is the PDF file corrupted and cannot be opened on your PC? We recommend that you download and reopen the PDF file. or, if it is an attachment, request that the email be resent.
Check Reader Services
If your PDF files won't open, you should first check whether the services used to read these PDF files, such as Adobe PDF Reader, Adobe Acrobat, etc., are working perfectly or not.
Try opening the document with your default web browsers, such as Chrome, Edge, Firefox, or Safari.
Also, we recommend reinstalling the PDF viewer, such as Adobe Acrobat.
Take advantage of the backup function
You can use the built-in backup function of the operating system if you are working with a PDF file on a Windows 10 device. You must first select the backup of your PDF files. After selecting the backup, you can seamlessly restore damaged PDF files to their previous version by doing the following steps: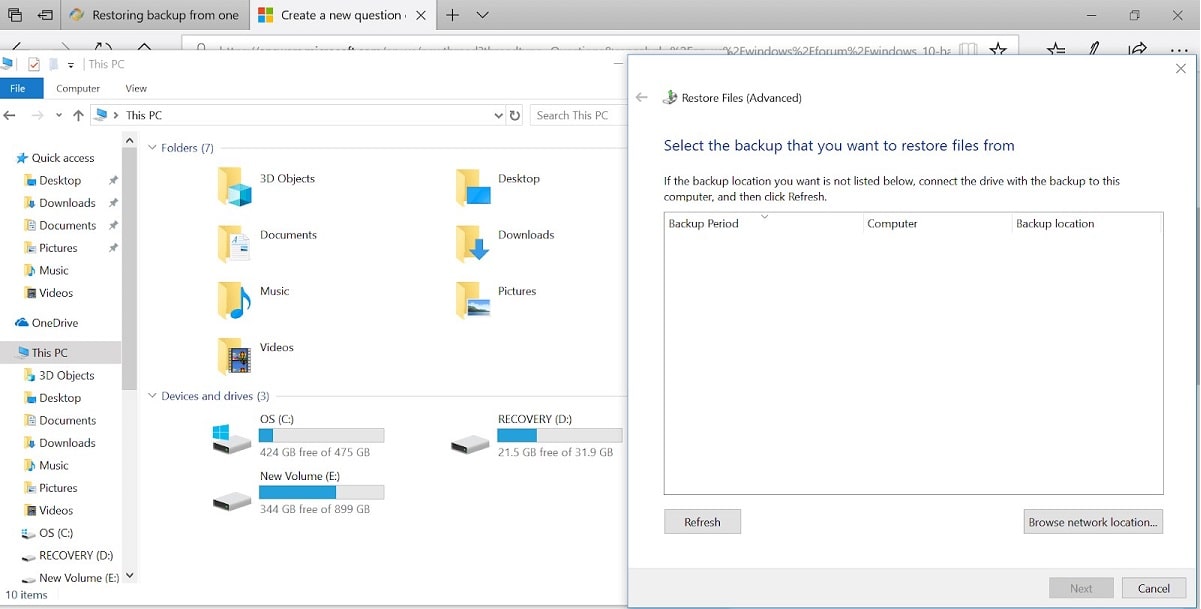 Recover or restore the previous version
On Windows OS: Right-click PDF, then click -> Previous Versions.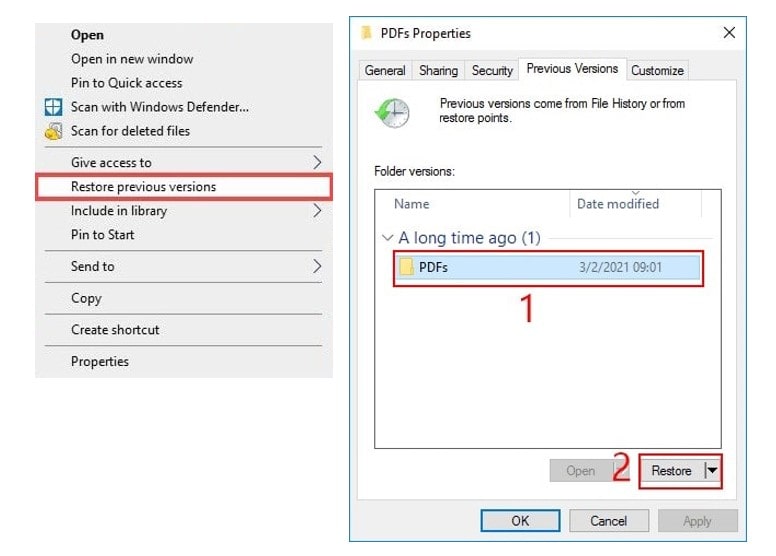 Here you can see a list of all previous versions of PDF files. Then click on each version, open them, and see if it's the version you're looking for. After finding the correct file version, press Restore, and the file will be restored to your system.
Recover PDF text data with Notepad
You can also recover the text (and only the text, not the graphics) in your PDF document using the Notepad app on any Windows PC.
Right-click on the damaged PDF file, choose To open with, and find Notepad in the list.
The Notepad app will open your PDF file, as much as possible, and you'll see a lot of code mixed in with text.
Your job is to separate this code from your text, which can take a long time, depending on the size of the document and your ability to filter data from the code.
The above-mentioned are the three free manual ways to repair corrupted or damaged PDF files.
However, if the problem persists with reading services, the next step is to try an online PDF recovery service. It can help you save time and energy. However, it attracts a fee. The choice is yours!.
Recover damaged PDF files using Recovery Toolbox for PDF
Recovering a damaged PDF file using Recovery Toolbox for PDF is one of the easiest online programs you have ever seen. It is a tool to recover an unreadable PDF file that contains essential information.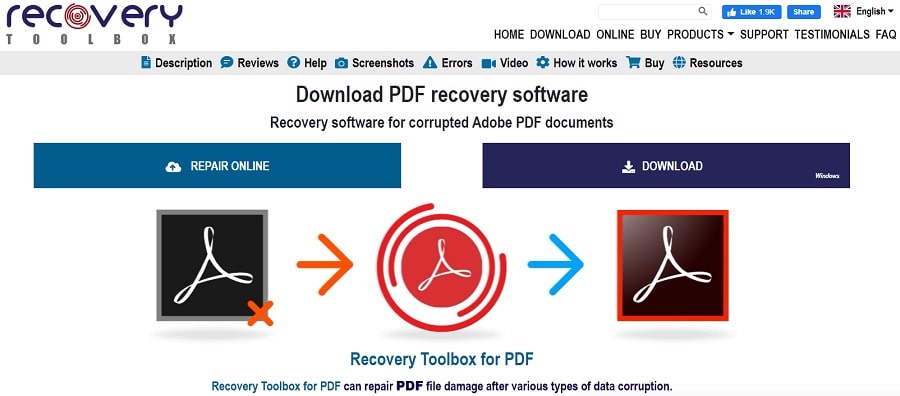 Entering the website, all you have to do is press one of the buttons:
Both forms have their characteristics. For example, if you want to recover one or two damaged PDF files quickly, it is better to use Online File Recovery on a website.
But if you have a large number of corrupt files and you want them to remain safe, we recommend that you download the program and install it on your computer. After payment, simply insert a unique key that you will receive by email.
PDF files are handy for storing content or documents in a secure format that unauthorized users cannot open. So far, we have summarized the main factors that often cause PDF file damage or corruption, and given you tips to repair damaged PDF files manually. Read more PC tips.