Yahoo is a legitimate search engine. The Yahoo search engine is related to the Bing search engine. However, search.yahoo.com is being abused by many types of adware and browser hijackers. Yahoo is abused because adware developers make money from the Bing ads that are displayed through Yahoo among the search results.
Because Yahoo is abused in applications that can be downloaded for free over the Internet, many users report search.yahoo.com browser hijackers in their browser's homepage and search engine settings. After adware has infected the browser and set Yahoo as the search engine, searches, the new tab page, and the home page are redirected to Yahoo.
The targets of browser hijackers such as the Yahoo redirect are web browsers with most users such as Google Chrome, Firefox, Microsoft Edge, and Safari. It is essential to know that Yahoo.com is often the end of a redirection chain. The adware usually redirects the browser through multiple websites before they land on the Yahoo search engine with search results. This way, you can recognize browser hijackers.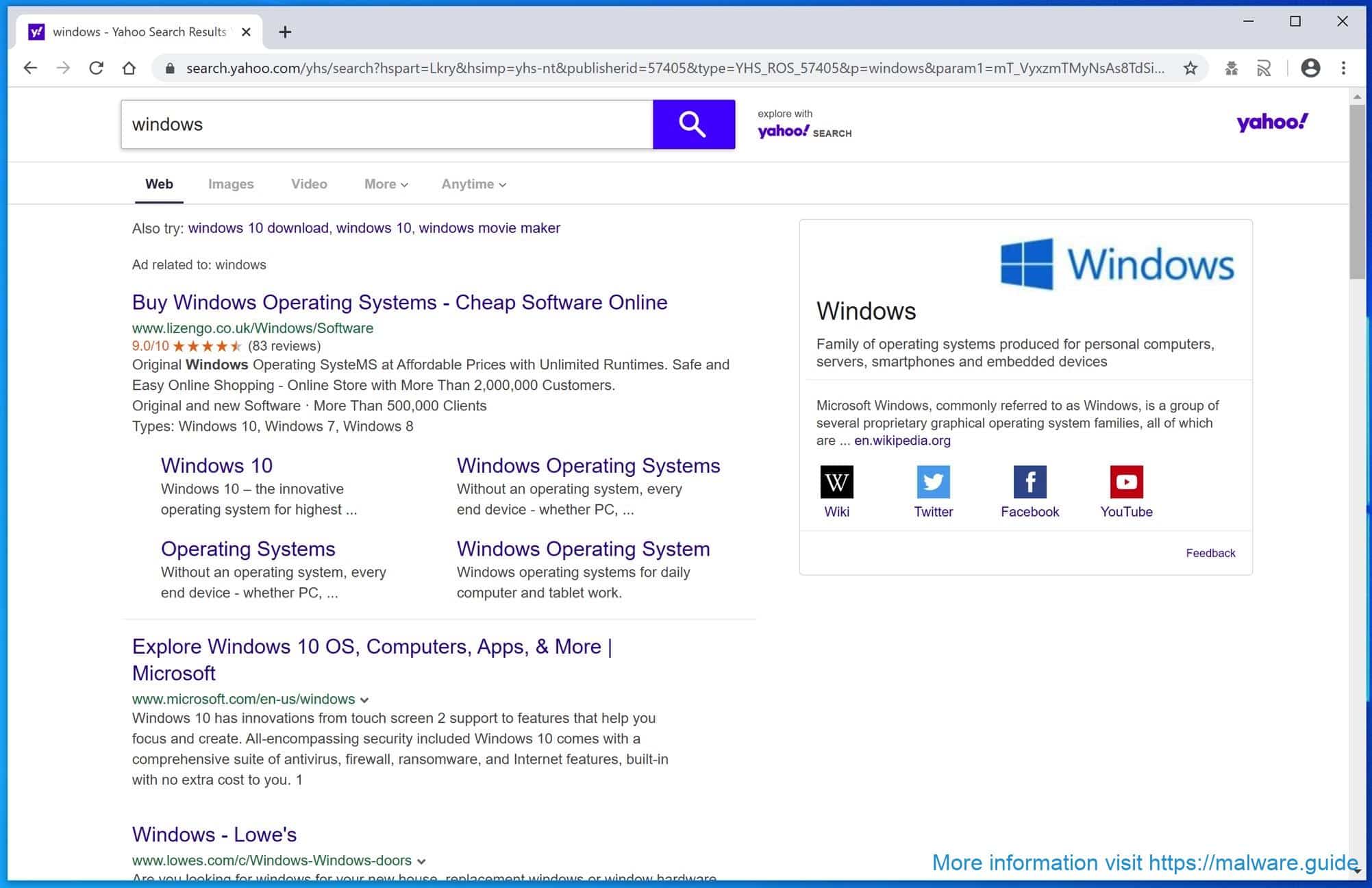 Many adware applications redirect the browser via Yahoo. These adware applications often have only one purpose, and that is to generate revenue by causing redirects in your browser to dangerous and misleading websites. In addition to the annoying advertisements, your browser is abusing adware's specific browser permissions by redirecting your home page, search engine, and new tab, as well as collecting your browser history.
Therefore, if you find an unwanted search.yahoo.com search engine in your browser, it is advisable to check the entire Windows or Mac computer for adware. Most users do not see the Yahoo redirect in their browser until adware is already installed. This can cause problems if data is leaked and other data collected from your browser and computer.
To prevent the Yahoo browser hijacker, it is essential to be careful about which software you download from the Internet. Do not accept pop-ups that ask you to install a useful browser extension to add functionality to your browser. Browser extensions can change your browser settings without you noticing, resulting in the unwanted Yahoo search engine. So the advice is to be careful when installing unnecessary software on your computer but also in your browser.
Remove Yahoo redirect
Uninstall Yahoo from Google Chrome (Windows and Mac OS X)
Remove browser extension
The first step is to check your installed extensions in Google Chrome. As described in this article, adware installs a browser extension to redirect the browser to Yahoo Search.
Open Google Chrome.
Click on the menu button in the top right corner.
Click on More Tools and then Extensions.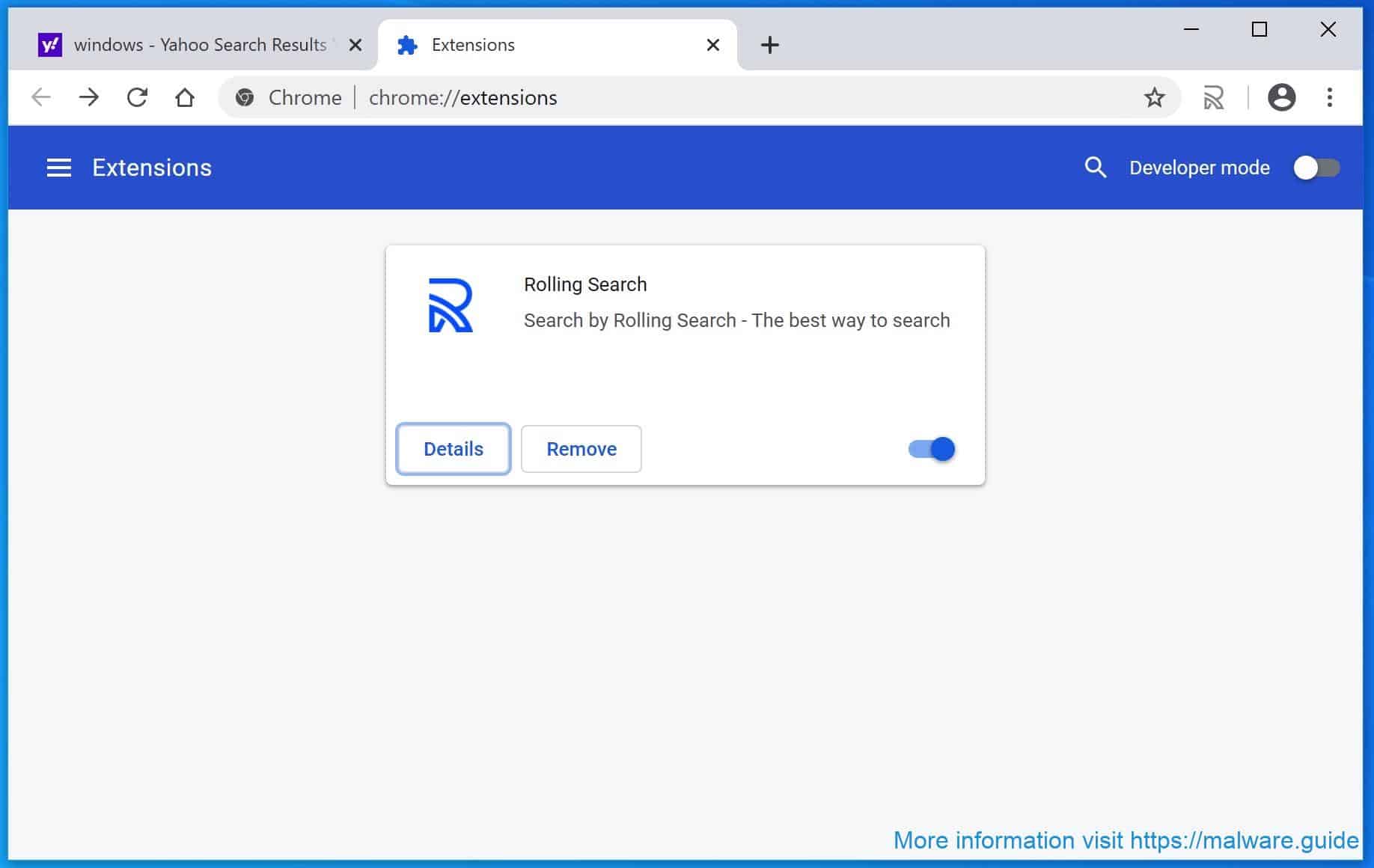 Click the Remove button to uninstall any unknown browser extension(s). Any extension that looks suspicious should be removed.
Change Yahoo search engine
Next, we are going to change the default search engine in Google Chrome.
Open Google Chrome.
Click on the menu button in the top right corner.
Click on Settings.
Scroll down to Search Engine.
In the: Search engine used in the address bar dropdown box, change Yahoo! to Google.
Next, click on Manage search engines.
In the default search engines find Google, click on the three vertical dots on the right and click on Make default.
Find Yahoo! (Default), click on the three vertical dots on the right and click on Remove from List.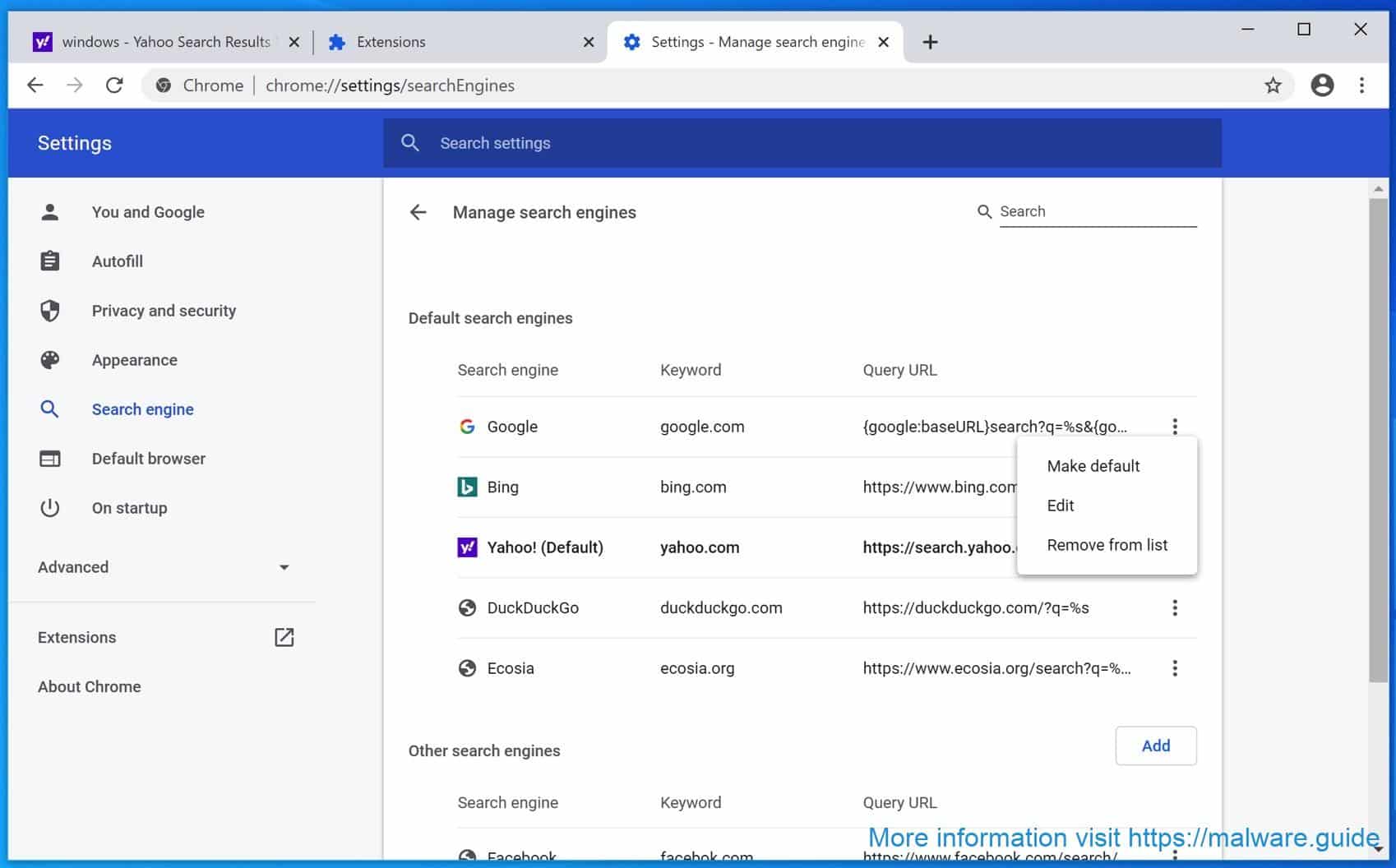 Yahoo should be removed now from your browser settings.
Yahoo virus removal tool
If you still have Yahoo redirect virus on your Windows or Mac browser. Scan your computer with Malwarebytes and remove the Yahoo redirect.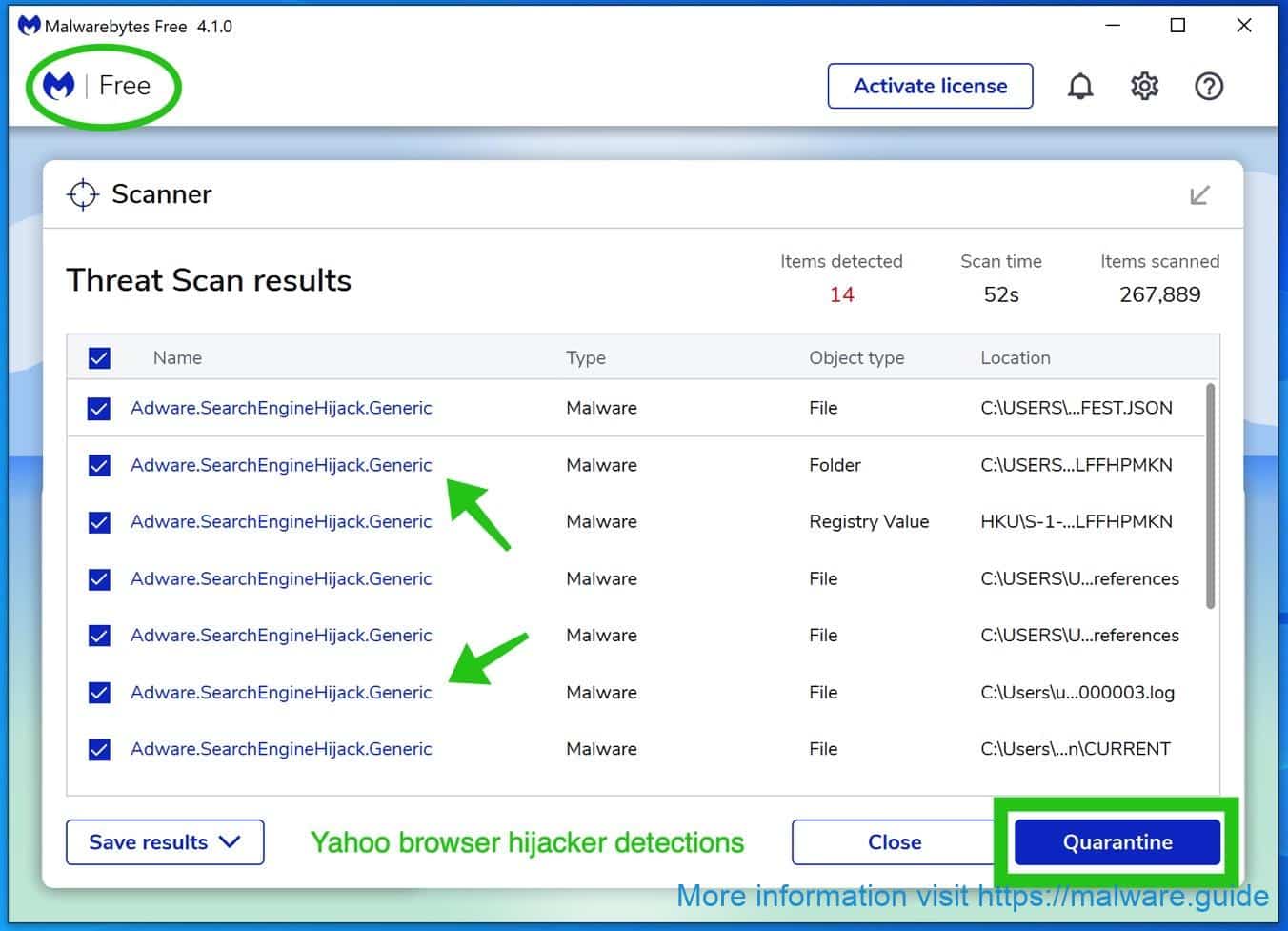 Malwarebytes does remove the Yahoo browser hijacker for you for free, that's a promise!